2013 Fall Newsletter — Gravic Labs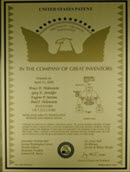 This section details recent patent news from our research and intellectual property (IP) arm. Please note that many patent applications are pending. Other patents are issued worldwide. Additional information can be found on the Gravic Labs website. Please contact us if you are interested in a certain property.
Gravic Labs is pleased to announce a recently awarded US Patent, number 8,301,593, entitled "Mixed mode synchronous and asynchronous replication system." This patent solves a critical problem for synchronous replication systems by providing a method to transition between synchronous and asynchronous modes when starting up or when recovering from network or nodal failure. This unique capability will be made available in a future release of Shadowbase, supporting synchronous data replication.