An insurance company provided insurance claims processing for its client companies. It used an HPE NonStop Server to perform the processing functions required for each claim and an imaging application to prepare the form letters that were the primary interaction with the clients' customers. The imaging application ran on a Windows Server and utilized a SQL Server database. As claims were made, they entered the NonStop claims processing system, and once processed, the pertinent information was sent manually to the imaging application on the Windows Server. The system created and printed the appropriate letters, which were sent to the customers. The imaging application then returned a completion notification to the NonStop claims processing system, and informed it that the forms were generated. The company wanted a faster and more efficient system that would not only reduce letter production time, but also the number of personnel involved.
Shadowbase Solution: Application Integration Problem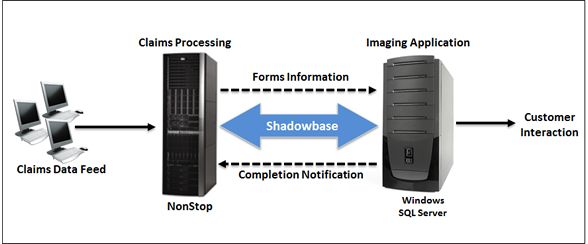 The insurance company's data is transferred bi-directionally between a NonStop SQL database on the claims processing system and a SQL Server database on the imaging system, automatically and quickly generating a form letter.
The letters information and completion notification are interchanged via data replication.
As claims are processed, the NonStop system records the results in its database.
The required information is extracted from the database and is replicated to the SQL Server database on the imaging system.
When the imaging system has generated the required letters, it notes this action in its database.
These notes are returned as a notification to the claims processing system, also via data replication, which then triggers the letters completion sequence.